Since Mar 2023 NetAtmo changed their client authentication API policies and the RainMachine NetAtmo Weather Service currently available, can no longer be used to retrieve data from personal NetAtmo accounts.

To continue using RainMachine NetAmo Weather Service please follow these steps.
1. Use RainMachine Web app (local or remote)
2. Choose your RainMachine device


Disable the current NetAtmo Weather Service
3. Go to Settings - Weather
4. Open RainMachine NetAtmo weather service that it is already enabled
5. Scroll down and click on its bottom left Defaults button.
6. Uncheck the Enabled checkbox to disable it, click Save button and then go back to the Weather Services list.


Enable the new NetAtmo Weather Service version with the fix applied
7. Click on the Community tab
8. Find the RainMachine NetAtmo Weather Services called "PersonalNetAtmo" and click on it.
9. Click Install and then go back to the Community tab. The new NetAtmo Weather Service should be listed on top of the list. Open it.
10. Enable it (check the Enabled checkbox).
11. Enter your NetAtmo account credentials (username email and password) into the designated input fields
12. Enter your NetAtmo app client ID and client secret
13. Click Save
14. Then click on Refresh Now button. If the credentials are correct, your NetAtmo modules should be automatically listed. If you want to use a particular module, check useSpecifiedModules checkbox and then copy the MAC address of the module you want to use. If you want to use more than one, separate their MAC addresses with commas. See the screenshot attached.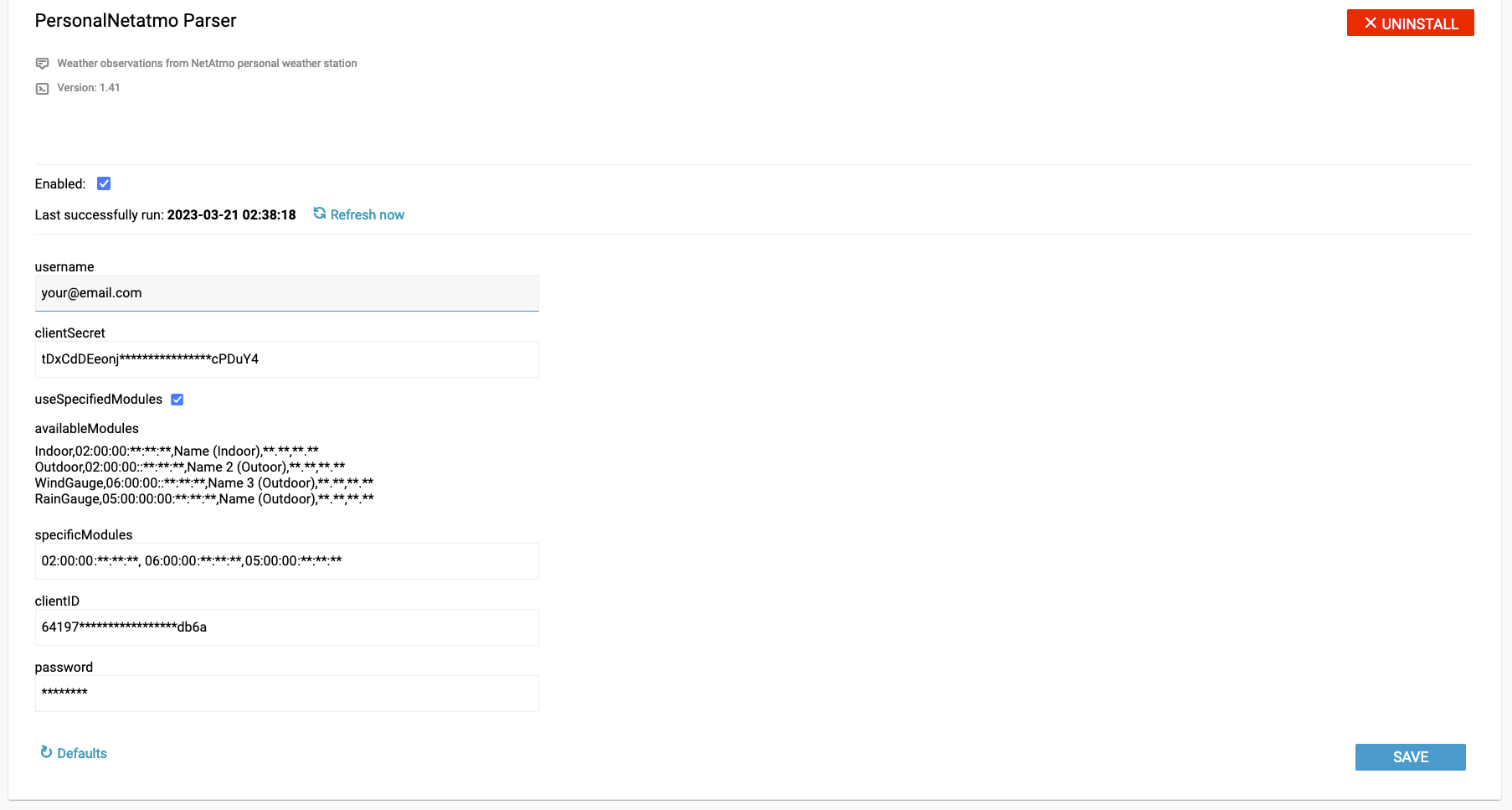 Note: It could take a few minutes until the connection with the NetAtmo dev app is made and the weather data from the NetAtmo modules is fetched. Click on Refresh Now button to get the latest status.


Create a NetAtmo dev app to get a client ID and client secret
1. Go to https://netatmo.com/ and sign in with your NetAtmo account (username email and password)
2. Click on this link https://dev.netatmo.com/apps/createanapp#form
3. Give your new NetAtmo dev app a name, a description, enter your name and your email address and click Save button.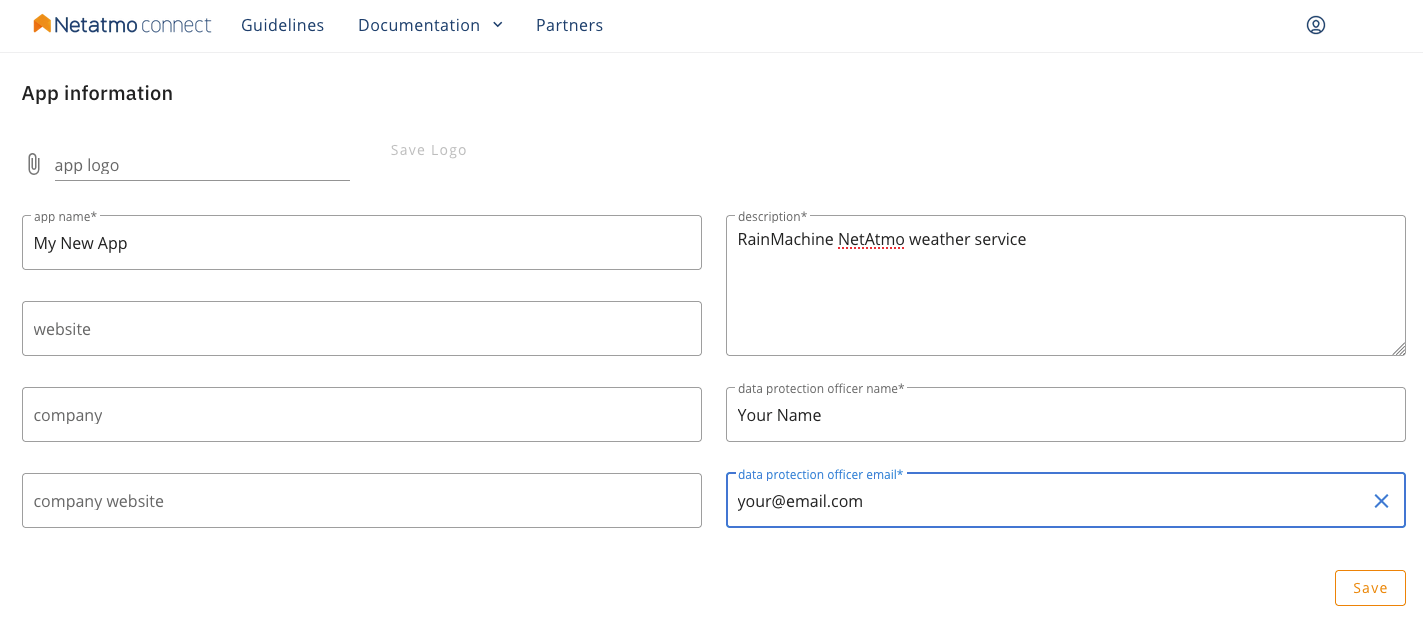 4. Automatically, the client ID and client secret will be generated for the NetAtmo dev app.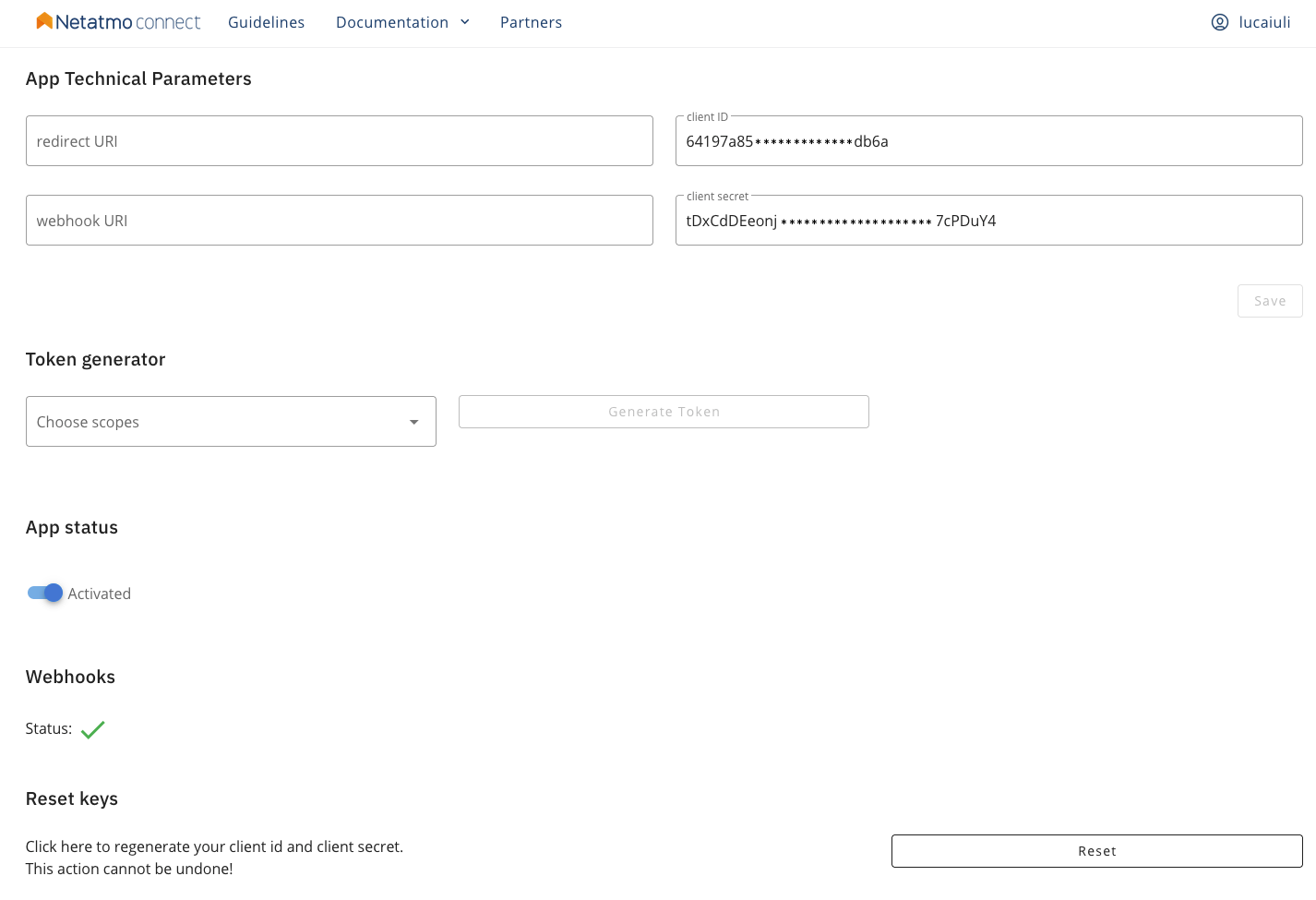 5. Use the client id and client secret to setup the "PersonalNetAtmo" weather service for your RainMachine device.