RainMachine zone Field Capacity refers to the maximum amount of water that the soil in a specific irrigation zone can hold after it has been thoroughly saturated and excess water has drained away. It represents the soil's ability to retain water against gravity's pull.
Field Capacity is an important parameter used in irrigation management to determine the amount of water a zone can hold before it reaches its saturation point. It is typically expressed as a percentage, representing the proportion of water held by the soil compared to its total capacity.
Understanding the Field Capacity of a RainMachine zone helps in optimizing irrigation practices by ensuring that water is applied efficiently without causing excessive runoff or wastage. By knowing the Field Capacity, you can adjust the irrigation schedule and duration to provide the right amount of water needed by the plants in that specific zone. This allows for effective water management, promoting healthy plant growth and conserving water resources.
It's important to note that the Field Capacity of a zone can vary based on factors such as soil type, organic matter content, compaction, and drainage characteristics. RainMachine provides options to input soil type and other relevant parameters for each zone, enabling the system to calculate and adjust irrigation schedules based on the specific Field Capacity of that zone.
By considering the Field Capacity of your RainMachine zones and incorporating it into your irrigation management strategy, you can ensure optimal water usage, prevent water-logging or drought stress, and maintain a vibrant and healthy landscape.

Field Capacity is a measure of the amount of water content held in the soil after excess water has drained away. Field capacity can be set for each zone by editing the Zone Properties:
Advanced Zone Settings > Field capacity.
This value can be increased if the RainMachine starts too soon after a rain.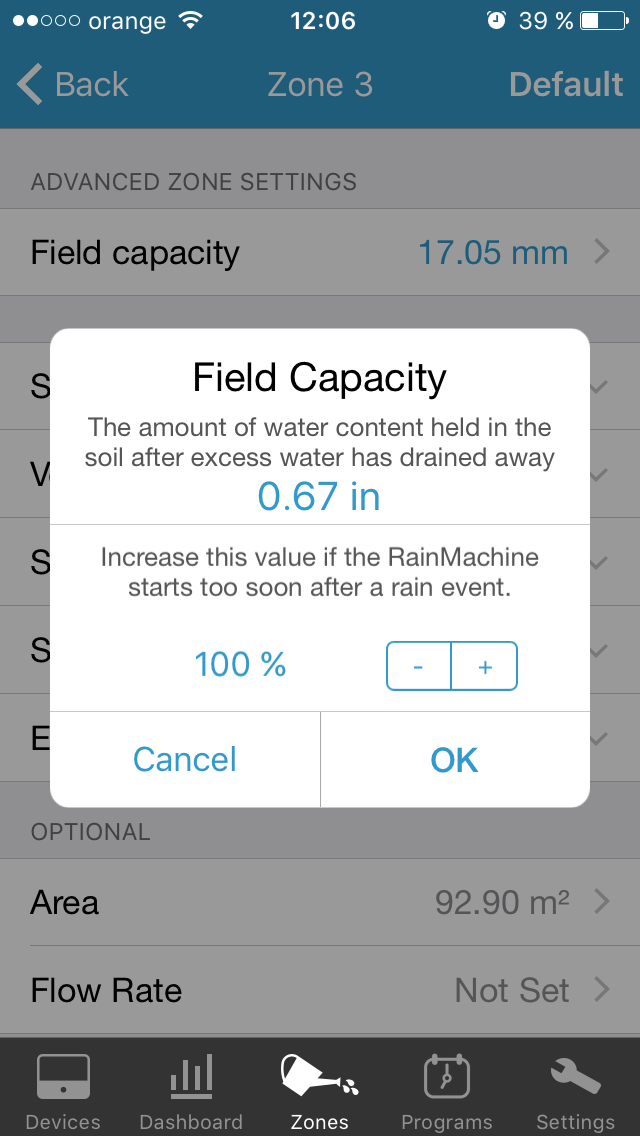 Web App
This can also be adjusted from the WebUI it is found in the zones. In the Advanced Zone Settings You can adjust the individual zones Field Capacity.

When clicking on the plus and minus symbols you will notice a 10% increase or decrease associated with the change. 0.67 inches should be the default.