A program is a schedule in which selected zones can be watered at a given time.  If a zone is a the "where," a program is the "when." Programs set the frequency and duration of watering each zone, and watering start time.
At the top of the program, you can change the name of the program and enable or disable it. You can Enable or Disable a Program by setting On or Off the Program Is Active slider.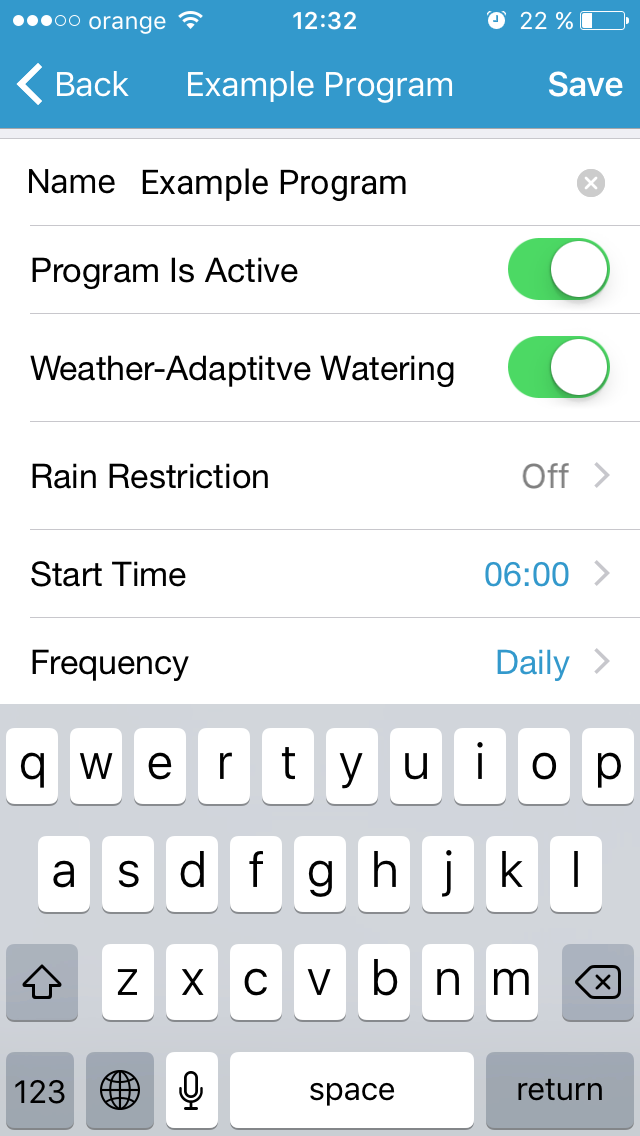 Start Time
Here you can determine the start time by either directly inputting a time, or setting it to start before or after sunrise each day. It will also display when the program is next scheduled to run.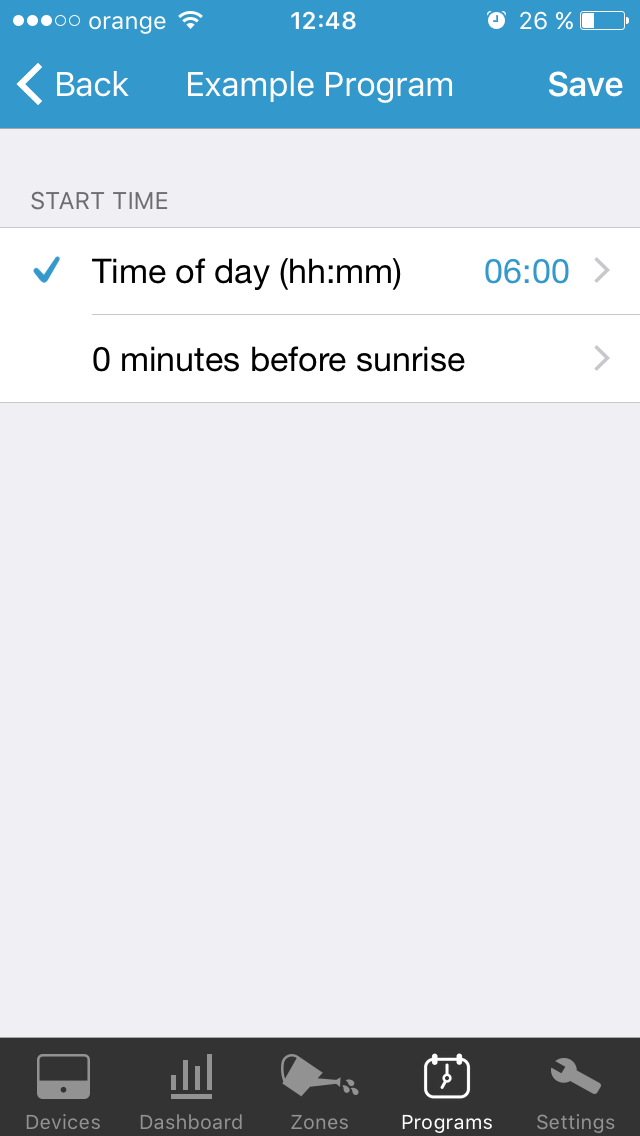 Frequency
Next you can change the frequency. In this program, it is set to water on odd days, though you can change the frequency to as much as 1 time every 2 weeks.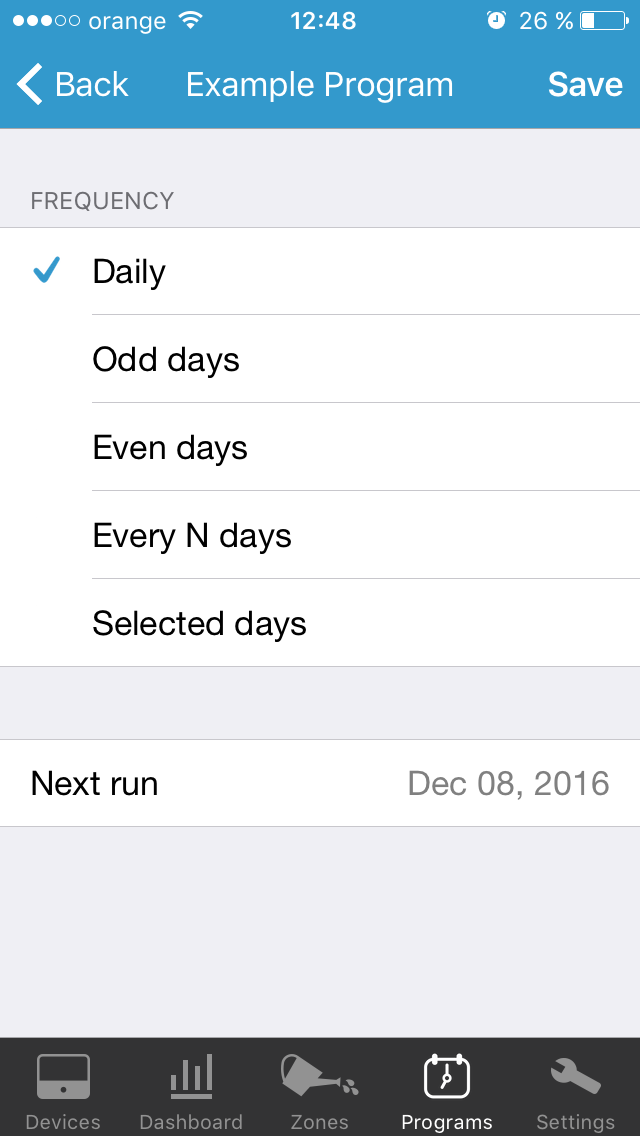 Cycle and Soak, Delay and Rain Threshold
You can set the program to follow a cycle and soak pattern (click link for details), set a delay between zones (for avoiding pipe knock or water pressure differentiation), and create a rain-delay threshold. The delay feature will cancel all watering if predicted rainfall is above the set value.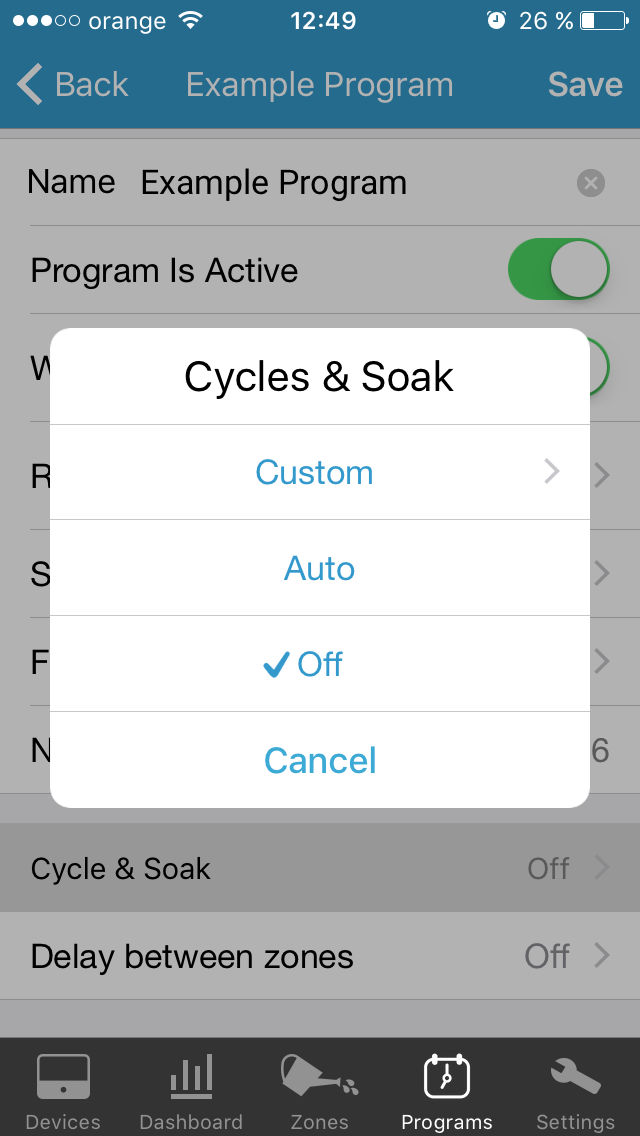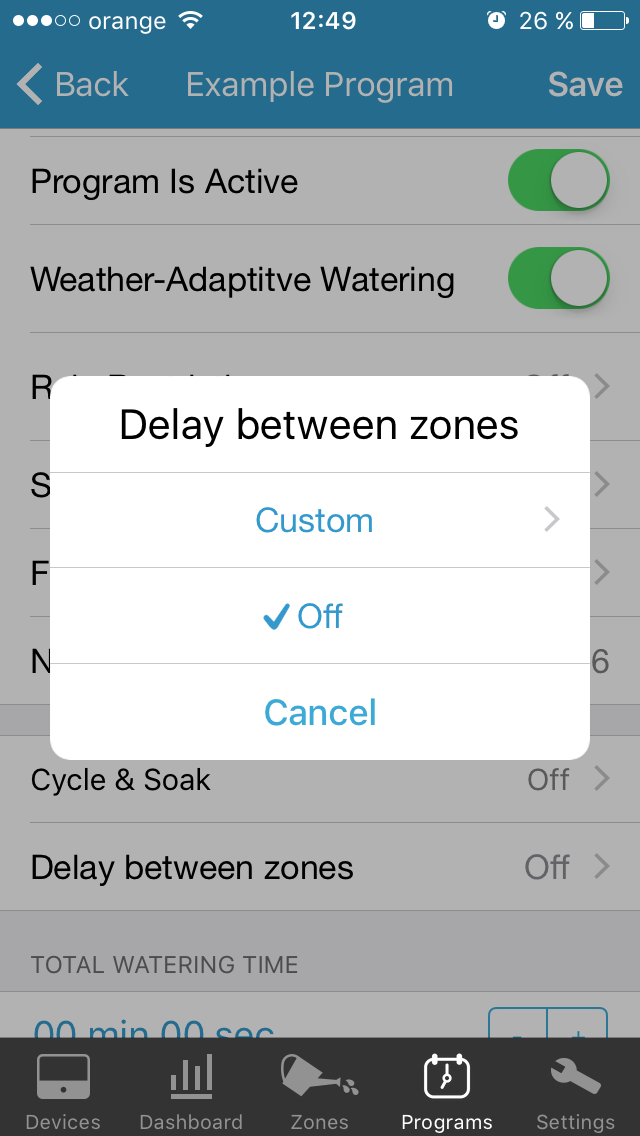 Zones Watering Durations
Here we see how long each zone is running for and the total run time.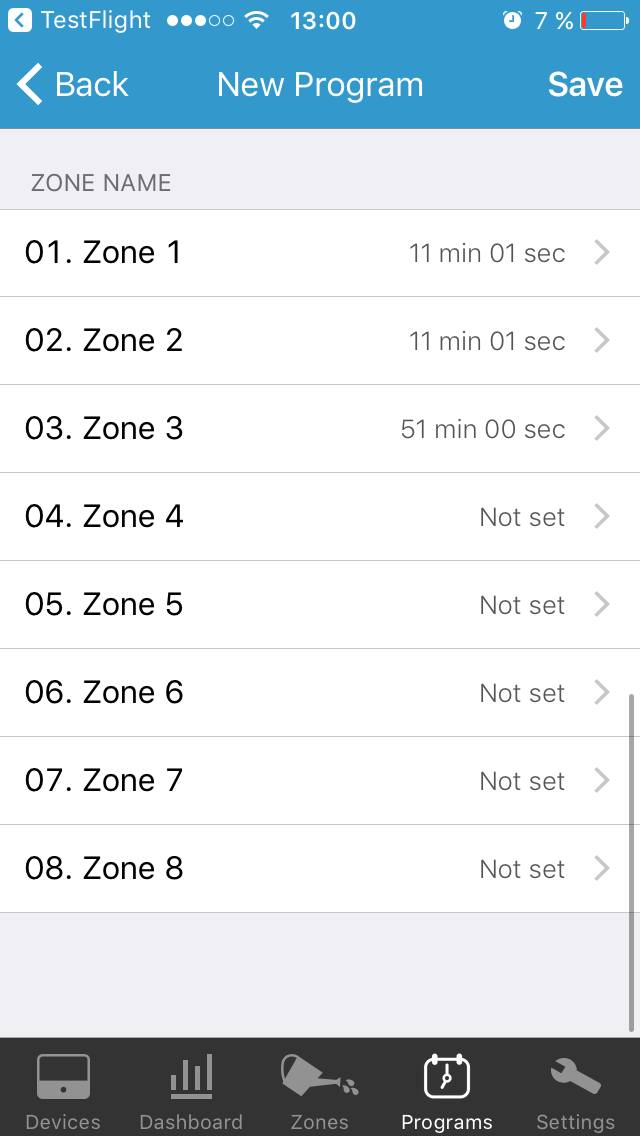 In this example, the base watering times are calculated from the zone properties (learn all about zones here), primarily vegetation type, soil type, sprinkler head type, shading, and slope. You can also input a custom time, or turn off the zone entirely by selecting Not Set.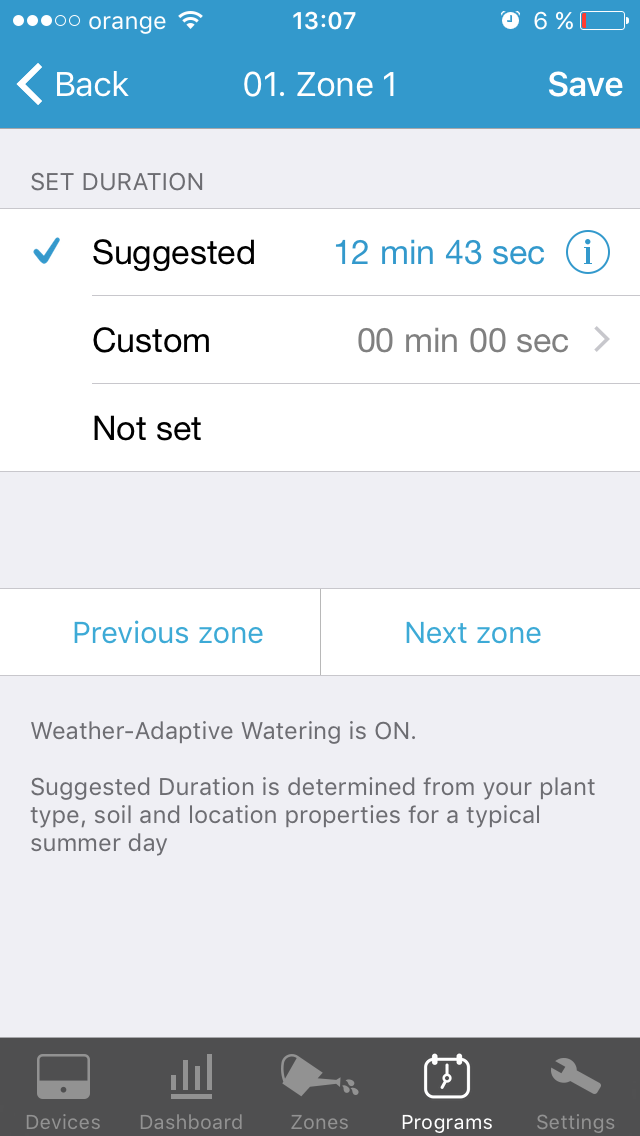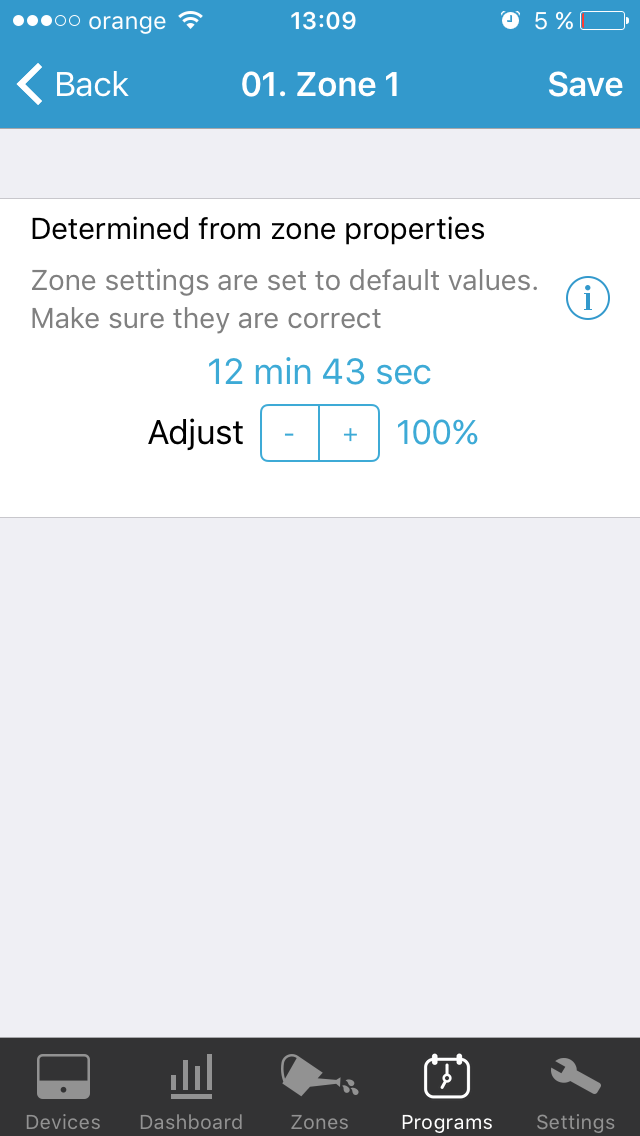 To review this example program:
It is set to run on daily starting at 6:00am. It is set to skip watering entirely if 1/4" of rain is predicted. This program is set to use weather data to adjust watering times (alternatively the program can be set to follow seasonal adjustments or a static schedule). In this case, the zones are using the EPA WaterSense recommended watering times determined from advanced zone properties instead of user defined times. The total runtime for this program is 3 hours, 16 minutes, and 30 seconds. This value will be modified by the weather based algorithm according to weather conditions.