Introduction
      A flow meter usually consists of a short pipe and an internal magnet revolving inside the pipe. The speed at which the magnet rotates is proportional to the water flowing through the pipe. The changes in the magnetic field are picked up at each rotation either by a reed relay (a small switch that closes when the magnet is close), or by a hall sensor and a signal shaping circuit. RainMachine Touch HD-12/16 supports only two wire flow sensors.
Please note that you can only connect one sensor at any given moment: either a rain or  a flow sensor can be connected to the unit.
Two-wire (reed-type) flow sensor
     Two-wire flow sensors must be connected between pins 1 and 2, following the wiring diagram below. There is no recommended polarity, these are simple connect/disconnect switches controlled by a magnet.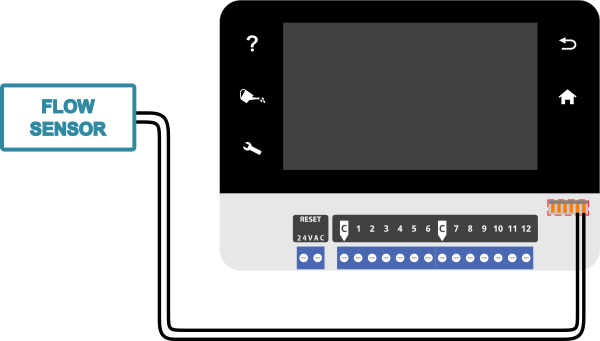 Software setup
     The flow sensors from these setups only deliver the impulses to the sprinkler, to have that translated into water consumption, the flow sensor input must be enabled and the click/water consumption ratio must be given (maximum 3 clicks per second).
Enabling flow sensor input from your phone (not yet published), or WebUI
     Since you need your phone or the RainMachine web interface to enter the gallons/impulse ratio, it's easier to do the whole setup from there. To activate the sensor input and enter the gallons/impulse ratio from your phone, tap on the highlighted menu points:

You can do the same from the WebUI, by accessing my.rainmachine.com - you will need to enter your username and password. 
There are a couple of controls you can adjust to set up leak detection with a flow meter. The screenshot below shows the settings screen with the adjustable parameters. To enable flow metering, you must check the "Use hardware flow sensor" checkbox, enter the clicks/gallon rate from your flow meter's datasheet and the value the flow meter index showed at install. This will result in the counter incrementing with the defined rate, beginning from the start index.
Pressing the "RESET" from the left side of the screen will result in the overall water consumption being reset to zero. 
Pressing the "RESET" from the right side of the screen will result in clearing the date of the last leak detection. 
Note that neither of the "RESET" buttons will clear any other variables.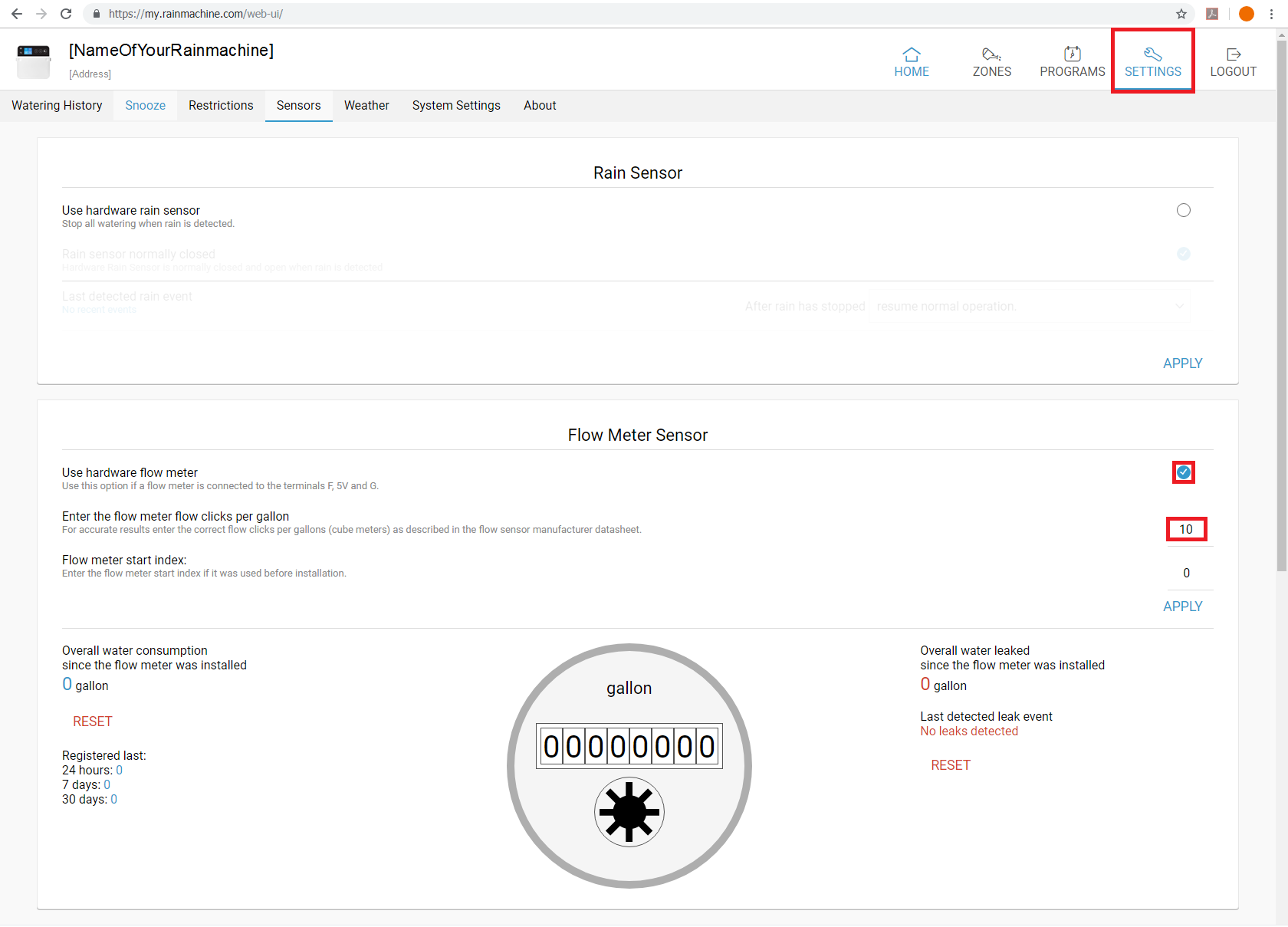 Note:
You can connect only one sensor at a time, connecting multiple sensors will most likely result in permanent damage of the sensors.
The maximum hardware resolution of the RainMachine Touch HD-12/16 flow sensor is 3 clicks/second. This means that the maximum measurable rate in case of a 1 click/gallon flow meter is 3 gallons/second (most flow meters send 1 click every 10 gallons, ten times less). Irrigation systems are usually working on a much lower flow rate than 3 gallons/seconds.