This feature is available now:
- on iOS version v4.0.900  (07/16/2016) and up
- on Android version v4.0.17 (06/13/2016) and up
- on the Touch HD devices v.1.0.19 part of v.4.0.750 firmware update (06/01/2016)
Restore from backup on RainMachine Touch HD 2nd gen devices (v.4.0.750 firmware and up)
1. With the first device setup, a backup is automatically created.
2. This backup is changed every time a change upon zones/programs/restrictions is made. There are no other backup version, just this one.
3. If for any reason you choose to RESET TO DEFAULTS, next time the device setup is started, you will be prompted to choose to restore from the backup, but you can also skip this step and setup the device from scratch.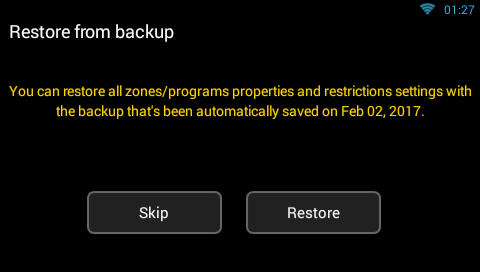 4. If you want to restore from backup after you skipped this step when setting up the device again, go to:
Settings > System > Updates&Restore and press Restore from Backup.
Important: If you reset the unit to defaults, please note that you will be prompted if you want to delete the backup!
Restore from backup using mobile apps (Android v.4.0.17, iOS v.4.0.900 and up)
Every time a RainMachine is accessed using a mobile app, a backup of its Zones, Programs and
Watering Restrictions is saved. This is important for the scenarios when changes are made from different platforms. 
There are 10 versions of backups being saved on the mobile device memory.
The device will create a single backup per day which will be updated each time the user opens the app if there are any new modifications on the zones/programs and restrictions settings.
After 10 backups are made (one per day) the last one will be deleted if a new one is created.
The mobile app creates separate backups for each accessed sprinkler, each with a maximum of 10 backup versions.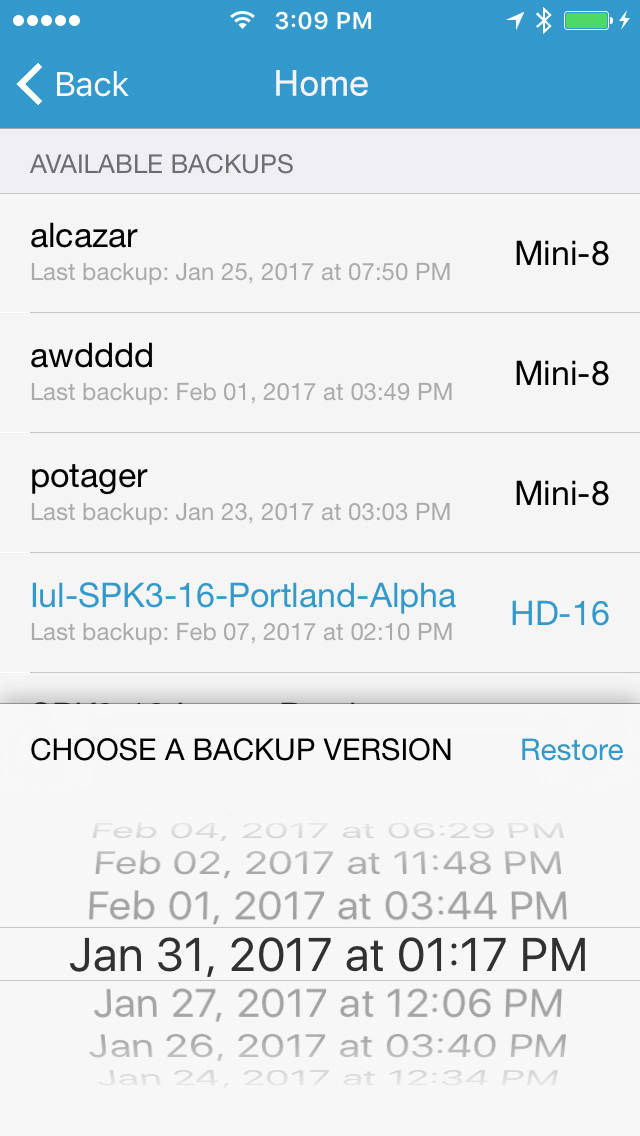 You have the possibility to restore a backup made on a different RainMachine device. If you choose to restore from a Mini-8 to a HD device then only the first 8 zones will be restored on the HD the others (9-12 or 9-16 remain the same). If you choose to restore from a HD to a Mini-8 device then only the first 8 zones and only the programs that uses those first 8 zones will be restored on the Mini-8
  The Watering History is not backed up, but it is not altered by the restore process either. So, if you choose to restore a backup made on the same device, then all your watering history will not be touched. The watering history is saved on device itself, so if you do not choose to RESET TO DEFAULTS the Watering History will remain.
  After a Restore from Backup action the Dashboard screen graphs will be empty until the mixer will regenerate them. To do that you will have to force REFRESH ALL for weather services, or wait for the next scheduled fetch of the forecast data to be computed and the graphs will show the bars on DASHBOARD 
screen.
The Restore from Backup also works on the first generation RainMachine (before 2015), but it will only save/restore the zones and programs properties since the restrictions are not available for the first generation.
Important: If you uninstall the mobile app you will lose all backups, as they are saved via app.