Learn how to enable NetAtmo weather service to get the data directly from your NetAtmo weather station module using RainMachine web and mobile (iOS, Android) applications.
NetAtmo weather service
1.1 Open the RainMachine Web Application (https://my.rainmachine.com), login to your RainMachine
device and then go to Settings > Weather.
1.2 Click on "NetAtmo" weather data source. Please mark the weather data source "Active".
1.3 Please enter your NetAtmo username and password in the required fields.
1.4 Click "SAVE" and then "REFRESH NOW" buttons to fetch the latest data from the NetAtmo account.

Optional
1.5 To use a NetAtmo specific module that you may have, please check "useSpecifiedModules" and from
the "availableModules" list copy&paste the module MAC address you want to use into the
"specifiedModules" field.
1.6 Press "SAVE" button again.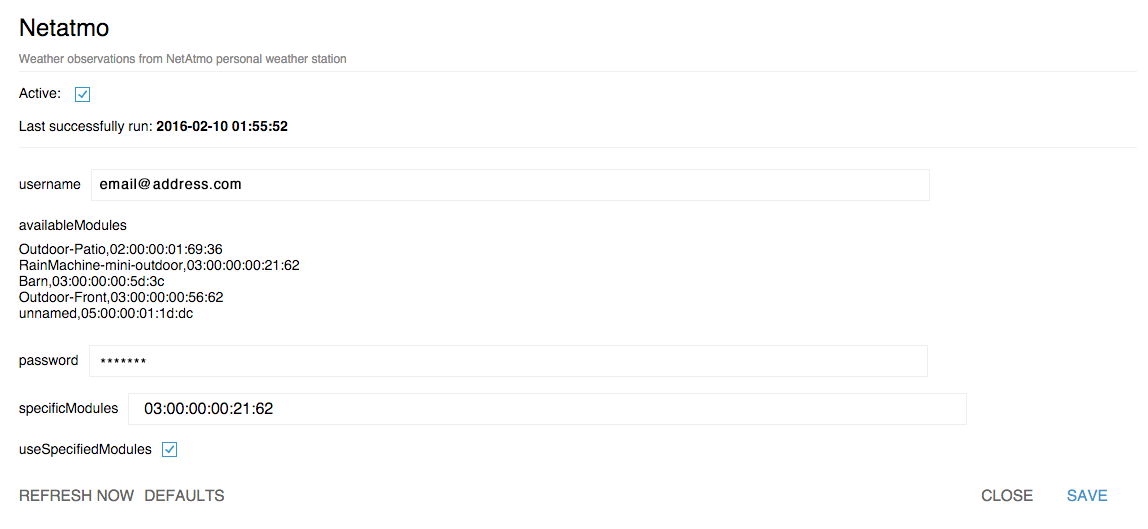 Note: It takes some time to fetch the data from the weather severs. Check the "Status" from the weather data sources list.

IMPORTANT
All weather data fetched from the weather data sources are based on your RainMachine device location.
Please make sure your location address is accurate.
To do that go to Settings > System Settings > Location
(using RainMachine mobile iPhone or Android apps, RainMachine local touch interface or RainMachine web application).