Weather Underground provides local & long range weather forecasts, weather reports, maps & tropical weather conditions for locations worldwide.
Get WUnderground API Key
Important: As of May 16, 2018, WUnderground Free API keys are no longer provided.
Read the official announcement here.
- Go to Wunderground Weather API website
- If you already have a Wunderground account click the Sign In button from the top-right website menu and enter your account credentials (email address and password).
- If you don't have an account click on the Sign Up for FREE button.
- On the sign-up page use a real email address, choose your password, confirm it by type it again and then choose your Wunderground handle (nickname).
- Agree with the Wunderground Terms of Service
- Click the Sign Up button
- Check your Inbox/Spam folder for email verification message from Wunderground.com. Click on the generated link and your account will be created and verified
- Your API key is not generated and you have to log in using the email and password chosen on 2b) step, or if you already have a Wunderground account use those credentials. - By default the FREE Wunderground Developer account will be selected: Developer Stratus (you can change to paid account later if you choose so) - After successfully logged in you have to complete a number of questions to get the FREE Wunderground API Key
see the image attached for example

- Click on Purchase Key button when you're done.
- If there are no errors on the questions form the FREE Wunderground API key will be generated.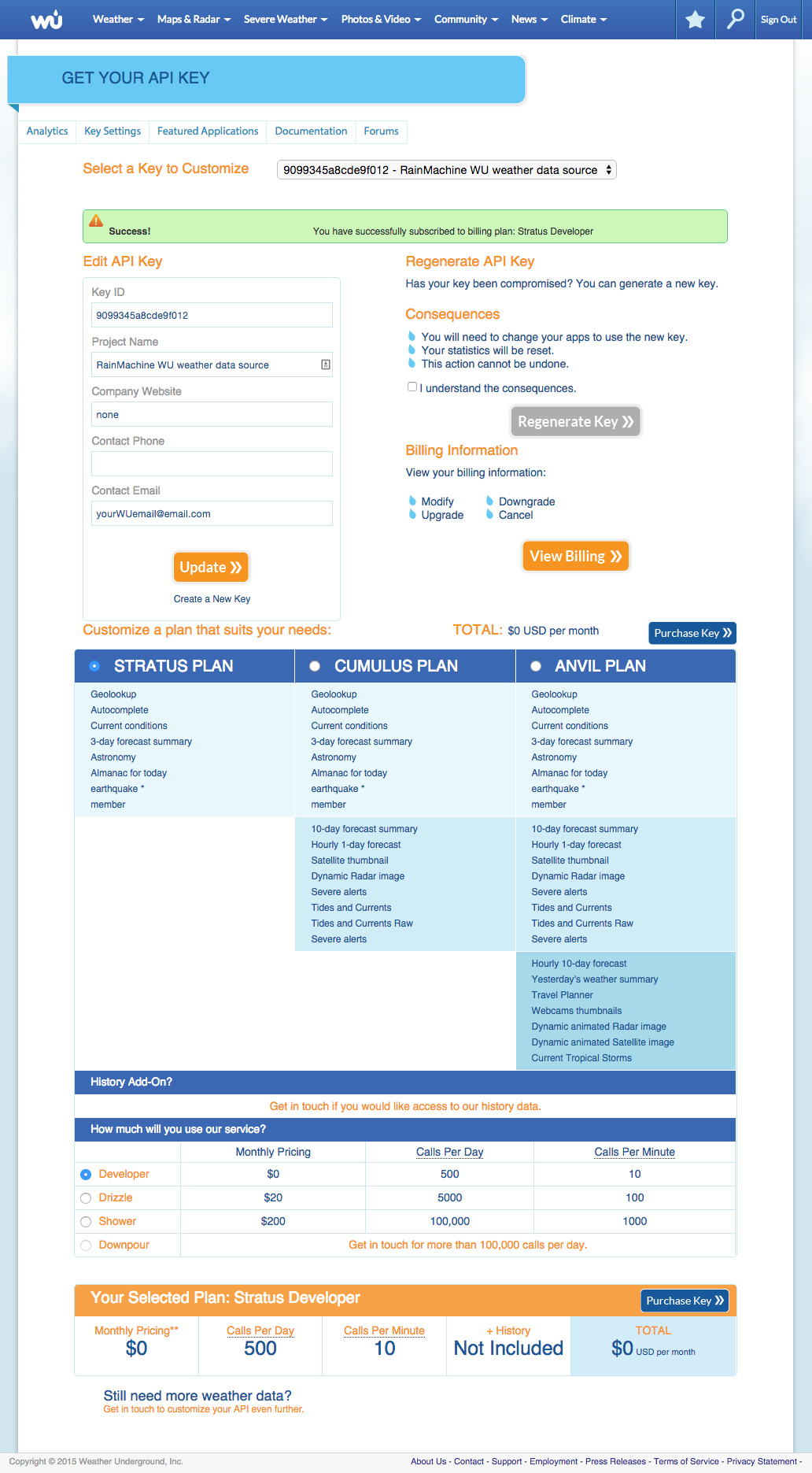 Your Wunderground API key is now active.
How to use WUnderground as RainMachine weather source
1.1 Please enter your API Key obtained from WUnderground.
1.2 Open the RainMachine Web Application (or use the same steps on the mobile iOS and Android RainMachine applications) (https://my.rainmachine.com), log in to your RainMachine device and then go to "Settings" - "Weather".
1.3 Click on "WUnderground" weather data source. Please mark the weather data source "Active" (see fig.1 image screenshot).
1.4 Click "SAVE" and then "REFRESH NOW" buttons to fetch the latest weather data from the WUnderground server.


OPTIONAL
1.5 If you want to use one or more specific weather stations, please check "useCustonStation" and enter each station custom name in the "customStationName" input field separated by a comma.


1.6 Press "SAVE" button again.
Note: It takes some time to fetch the data from the weather severs. Check the "Status" from the weather data sources list.

IMPORTANT
All weather data fetched from the weather data sources are based on your RainMachine device location.
Please make sure your location address is accurate. To do that go to "Settings" - "System Settings" - "Location"
(using RainMachine mobile iPhone or Android apps, RainMachine local touch interface or RainMachine web application).